I decided to make this post for some of you that may want to build a Face Painting Kit.
Whether is for Business or Personal use I started with the basic stuff.
I had no idea of what to purchase, what brands to use or anything in the Face Painting Field.
I started doing a lot of research and I heard of the brand Snazaroo.
Snazaroo has all you need from sample palettes to full size individual paints.
I personally purchased the 16 color wheel sample palette.
Again I had no idea what to purchase and I chose this after doing research.
This 16 color wheel had every color I can think of. The paint pigmentation was very good.
These paints activate with water. After using this palette for a while I realized that the must have colors on a kit are Black and White of course. Red, Blue, Yellow. I say these colors because you can mix them up to get the color you want.
Once you know that you want to invest on a Face Painting Kit, you can get creative by adding all the Neon, Metallic and Fun colors out there.
(Will make a Post all about paints for you guys soon)
Below are some palettes I found that can be helpful for beginners too.

Snazaroo palettes like this one can be sold at Michael's or Walmart.
My 16 wheel palette cost me about $28.00
The 8 pc. above is about $15.00
Wolfe FX is one of my favorite paints I use on my business kit.
I didn't know about this palette when I started otherwise I would of probably bought this one too.
You can buy this palette Online or any Clown Makeup Stores.

SPONGES
Since the beginning I used the Paradise sponges.
My personal Favorite are the Teal Sponges but they both work well.
Michael's has a pack of sponges that work just as well too.
BRUSHES
When I started I purchase a set of brushes like the picture below.
Lowe Cornell Brush Value Pack.
It had 25 brushes but I only ended up using all the taklon brushes in this pack which where all I needed to start off. Once I started researching more and learning the purpose of each brush I knew what else to purchase. This pack was about $10 I think at Michael's.
MY KIT
This is what my kit looked like once I bought full sized
paints. I have to admit my kit has grown of all the extras I've
been adding as time goes by.
OTHER ITEMS NEEDED ON A KIT
GLITTER
Glitter is a must have on a Kit.
It adds a beautiful touch to any Face Paint.
Any cosmetic glitter can work for Face Painting.
I recommend a white holographic glitter to start off since it will go with any painting.
Once you start growing your kit you'll probably find yourself wanting all
the colors in the rainbow.
WIPES
You will need wet wipes on your kit to clean of
any mistakes you make when painting.
SPRAY BOTTLE
You will need a spray bottle to wet your paint and sponges.
WATER CONTAINER,CUP OR TUB AS SHOWN BELOW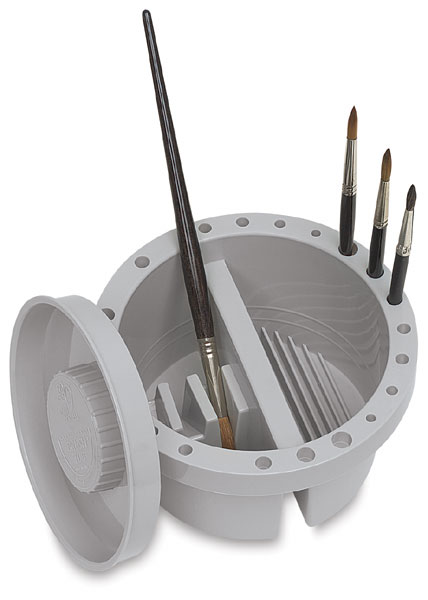 You will need a water container, cup or tub to clean out your
brushes in between uses.
I really hope this Post was helpful to some of you.
Thanks for Stopping by!